August 17, 2020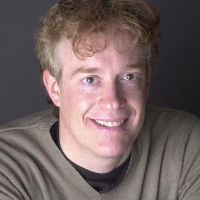 Imagine being a composer and performer in quarantine. Your scheduled professional appearances over the next several months have been postponed or cancelled. What do you do now? Well, if you're Andrew Simpson, you improvise.
Professor Simpson, director of the Rome School's Stage Music Program, has been creating daily videos since April 16, combining short musical improvisations with images on a different theme each day.
"I noticed lots of people were doing things online during lockdown," Simpson said. "I wanted to do something as well. What could I bring to the table? I'm a composer, performer, and improviser. I have a piano and other instruments in my house, and I also have recording equipment. So, I hit on this idea to create short pieces each day, in a variety of styles, usually on piano, accompanied by either a slide show of images or a montage of video excerpts."
The project entails a reversal of the process familiar to Simpson, who is known for composing musical scores for silent films. Instead of writing music to match film images, Simpson is recording his short improvisations and then editing videos to accompany the music. The images come from archives or are originally produced.
"Some of my videos are whimsical and some are more serious," he said. "I did one for Mother's Day, which was essentially in memory of my mother, who passed away in 2015. 'Gracing the Windshield,' on May 6, was inspired by windshield wipers and raindrops. 'Disgracing the Windshield,' about birds, followed. I did one on the Indy 500 not being run, called 'Drivers, Cool Your Engines,' and one for Memorial Day."
The daily videos, intended as a diversion for people suffering from cabin fever, have turned out to be a form of therapy for their creator as well.
"I love the regularity of it," Simpson said. "I love not only the great fun I get out of doing it, but that it gives my days structure as well. Each day I have a project. I find that incredibly helpful. And I get to create a new piece every day!"
Simpson plans to continue producing his daily improvisations for as long as the quarantine lasts. Though the project is meant just for fun, some of the pieces might find another life.
"I did one on Cinco de Mayo as a tribute to Mexico, called 'Mountains and Souls,' (see above) and I liked the melody that I came up with," he said. "So, I'm turning it into a song."
--Greg Varner, Senior Writer and Editor, Office of Marketing and Communications
AFFILIATE LINKS:
Related News