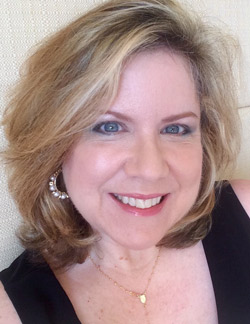 University President John Garvey appointed Jacqueline Leary-Warsaw as dean of the University's Benjamin T. Rome School of Music, Drama, and Art effective Monday, June 18, 2018. An internationally recognized music educator and classical soprano, Leary-Warsaw is also host of the popular television series
In Concert
on the EWTN Global Catholic Television Network. Leary-Warsaw succeeds Grayson Wagstaff, who has served as dean since 2010.
On June 5, 2018, the University's Board of Trustees voted to join the departments of drama and art with the music school to create the Benjamin T. Rome School of Music, Drama, and Art. Catholic University's music, drama, and art school expects to bring together all on-campus arts faculty to foster cross-disciplinary efforts and anchor the University's commitment to the arts.
Now in her 25th year as the producer, writer, and on-air host of
In Concert
, she has worked with Radiotelevisione Italiana, Italy; EuroArts, Germany; and PBS, among others. A founding member of the University's Catholic Arts Council, Leary-Warsaw has been part of a decades-long collaboration with Catholic University and the Basilica of the National Shrine of the Immaculate Conception on production of the Annual Christmas Concert for Charity.
She previously served as chair of the Department of Music, artistic director of the Conservatory of Fine and Performing Arts, and associate professor of music at Birmingham-Southern College in Birmingham, Ala.
Also recognized internationally as a researcher and writer, Leary-Warsaw presented her current research on the debilitating effects of perfectionism in college music students at the 2016 IX. European Conference on Social and Behavioral Sciences in Paris and the 2016 College Music Society National Conference in Santa Fe, N.M. She presented her work on the mentoring of undergraduate music students through collaborative internships at the 2015 Hawaii University International Conference on Arts, Humanities, Social Sciences, and Education in Honolulu.
"I am pleased to appoint Jacqueline Leary-Warsaw as the new dean," said John Garvey, president of Catholic University. "She is a noted educator who has the leadership and experience to guide the school at a significant time in the history of the University."
President Garvey also thanked Dean Wagstaff "for his many contributions to the school during his tenure as dean."
As a classical soprano, Leary-Warsaw has performed in opera, oratorio, solo, and chamber recitals throughout the United States, Europe, and South America. Her solo performances include the Instituto Paulo VI, Santiago, Chile; Saint-Pierre Saint-Paul Cathedral, Troyes, France; Organization of American States and National Museum of Women in the Arts, both in Washington, D.C.; Alabama Symphony Orchestra; Louisville Orchestra; Opera America; and numerous other opera and symphonic organizations.
Leary-Warsaw earned a Bachelor of Music from University of Louisville, a Master of Music from The Catholic University of America, and a Doctor of Musical Arts from Johns Hopkins Peabody Institute.
"I am very honored and humbled to join The Catholic University of America community and to be a part of this very historic time as we prepare to launch the new School of Music, Drama, and Art," said Leary-Warsaw. "I am eager to work with the University's world-class performing and fine arts faculty at this time of progress through new artistic pursuits and a renewed commitment to the future of the arts at Catholic University."
As the dean, Leary-Warsaw will report to the provost. She will provide academic and administrative leadership to the school, while representing the school to the University and the arts world. She will be responsible for leading its development, promotion, and growth.